Julley from Leh! That means Hello in Ladakh and you'll find that everyone here is itching to say it to you.
Leh is the super friendly mountain city that is waiting for you to visit them.
When you arrive here, either by bus or plane, you'll be greeted by the most spectacular panoramic views of snow-capped mountains, ancient palaces, and Buddhist stupas.
It's also a welcome paradise from the busy, dirty cities like Delhi and Rajasthan.
Here's the ultimate Leh Ladakh travel guide including how to reach Leh, top things to do, where to stay, and what to eat!
Where is Leh Ladakh in India?
Leh Ladakh has an interesting mix of cultures and food as it's on the border of China and its history is closely related to Tibet!You'll probably question what country you're in a lot while you're here and that's the beauty of Leh.
The best time to visit is actually in the monsoon season between June – September as Ladakh is a dry spot in a country of constant rain!
They also shut the road after mid-September so it's best to visit before then or fly!
It's beautifully sunny every single day at this time and everything almost looks saturated as you're closer to the sun and higher up at 3,500 metres!
It's also perfect weather for trekking and is what most travellers flock here for.
How to reach Leh Ladakh: flying vs. the road
There are usually two choices for approaching Leh Ladakh.
You can directly fly to Leh Ladakh from Delhi which is what most travellers prefer as you can skip the long bus journeys up through the Indian states of Himachal Pradesh and Jammu & Kashmir.
But, this means that you cannot acclimatise very easily and you may suffer from altitude sickness and need a few days to adjust.
If you are prone to altitude sickness, you can get tablets to help with it. The other is to take the long bus journey from Manali to Leh.
This is the cheapest option and actually is not as dangerous as people make out.
Yes, the roads are crazy but the views are absolutely jaw-dropping and are worth the time spent alone.You'll pass through valleys, mountain passes, and waterfalls. There's absolutely no sign of life around in many parts and it's an experience you won't forget.
Taking the bus from Manali to Leh
I took the 18-hour bus from Manali to Leh, which was actually 20 and we arrived in the middle of the night.
Our bus driver did a great thing by dropping us off in the backpacker district of Changspa where there are tonnes of guest houses. But, little were we to know that none would be open for business after midnight!
For a little while, we hung out with some other travellers from the bus in a bakery which turned into a bar late at night and just played the same Ed Sheeran song over and over again.
We had chai while deciding the next plan of action, which was basically to try every guesthouse in the area!
After a little while, we couldn't find anywhere and a bar called KC garden offered for us to stay at their place for the night. It was an, which was used for group get-
togethers and parties!
It had no windows, was freezing cold, and let in all the noise of dogs barking. However, it was a place to crash for the night and we had loads of blankets to keep warm.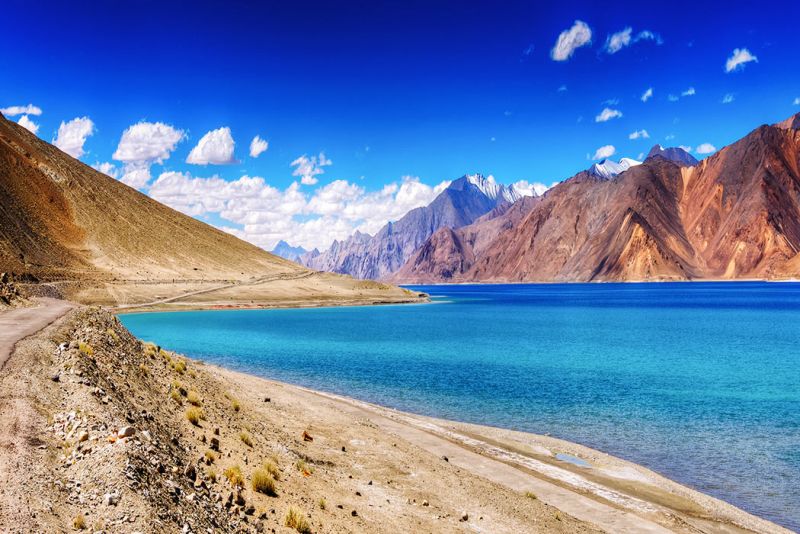 1016848-thiksey-monastery-in-leh-ladakh
Prayer flag in Tsemo castle in Leh, Ladakh, India
It was really generous of him as he didn't have to offer anything at all. He also didn't charge which was really kind.
We were stranded in Leh Ladakh
The guy who owned the place said we could sleep in until noon, but when the workers came in the next morning at 7 am – they played really loud music so we would get up!
At first, it was just Buddhist chanting music which was actually really nice.
By 9.30 am, they upped the ante with techno music and that's when everyone groggily got out of their sleeping places.
The next day, we had a chai together, thanked the guys at KC garden, and thenwent to try and find a room.
Where to stay in Leh Ladakh: Changspa
We ended up staying at Hotel Asia which turned out to be the cheapest.
It was 500 a night with a shared bathroom, I hardly slept each night due to the light and noise but it did have hot water every single day!
Most people use Leh as a base in Ladakh as it's the main city with good connections to Nubra Valley, Pangong Lake, and Srinagar in Kashmir.
But, there are lots of things to do in Leh Ladakh itself.
It is really gorgeous to explore too with an epic mountain range, historical palaces, and the iconic Shanti Stupa.
You can't really get bored, even just if you gaze at the scenery around you.
Leh Palace
This would probably be a good first point of call to start off your adventure in Leh. The ancient palace looks down on the rest of the city.
This was the home of Ladakh royalty and was modelled on the Tibetan Potala Palace in Lhasa.
Even though it was built in the 17th century and steeped in history, not many of the ancient artifacts of the royal family remain in the palace.
It's nine floors of empty rooms save the antique pictures which hang on the walls.
The best part of wandering around this palace is actually the viewpoints from the
rooftops!
You can get great panoramic views from all over the city. There aren't really any restrictions on where you can go here so explore away!
Castle Tsemo
Castle Tsemo stands high on the hill above the Leh Palace.
To reach it in Leh Ladakh, you can get a taxi for around 250 rupees or take the steep winding trek uphill!
There are two parts to Castle Tsemo, a Buddhist temple, and the castle and the Namgyal Tsemo Monastery.
When you've caught your breath from the walk, take a peek inside at the beautiful golden Buddha which is perfectly preserved inside.
Next is a climb up the monastery, you'll pay 20 rupees to head on inside.
At first, I thought this was awesome as it was so cheap, but then I realised that you had to head on up the rooftops of the monastery on these ladders from hell!
These weak, feeble ladders were not attached to the wall in any way and so it was a dodgy climb to the top!
Although these ones were low, the others were pretty much vertical!
Although the views were totally worth it, there was one problem – how was I going to get back down?!
I was petrified and my boyfriend literally had to place my feet on each step of the ladder.
When I got to the bottom, I literally couldn't breathe haha!
I can laugh now, but I genuinely thought I was a goner. It's totally ridiculous so if you're afraid of heights, I wouldn't recommend it.
Shanti Stupa in Leh Ladakh
The Buddhist Shanti Stupa was one of my favourite attractions in Leh Ladakh. It was donated by the Japanese, built-in 1991, and blessed by the Dalai Lama himself.
Although it is a 500 step walk to the top, the views and the stupa are so worth it! We arrived at around 10 am in the morning and there was literally no one around.
The best time to visit the Leh Ladakh Shanti Stupa is at sunset when the
temperatures aren't so hot and the sun creates a beautiful red glow on the mountains surrounding it.
There is also some really beautiful Buddhist chanting music which is broadcast live from the temple nearby.
When the lights go down on Leh Ladakh, the Stupa lights up and you can see the many stars which appear here due to the limited light pollution. It was magic.
When we visited in the evening time a government official was there, so naturally, some of the Kashmiri soldiers were here on guard.
Leh Market
Before I got to Leh, I had this awful feeling there wouldn't be anything around.
Most places in Himachal had a mall road, but I wasn't sure about Leh.. luckily, I was proved very wrong!
There is a massive main market here which has everything you could wish for.
Restaurants, shops, supermarkets, chemists, the lot. So, don't worry about getting access to the basics.
There were also these great little fruit and veg markets from the local farms here. The mini peaches, locally called aadu, were to die for!
Trekking Leh Ladakh and Day trips from Leh Ladakh
There are endless options for treks from Leh Ladakh that you can get involved with.
Pangong Lake and Nubra Valley were popular trips also which was a 2-day and 1-night stay.
There were 3, 4, 5 days, and even 20-day treks out of Leh. So, it will be down to personal preference if you wanted a guided trek.
There are a lot of treks that you can do self-guided also. Nubra Valley is around a 3-day trek each way which is supposed to be easy.
But bear in mind that there isn't any phone signal here so you won't have Google maps to help you!
Best to download a walking trail map beforehand or buy one from the local shops here.
Multi-day sightseeing tours in Ladakh
There are many interesting multi-day tours that can be organized from Leh.
The famous tours are the 2-day Indus river tour where you get the chance to visit some of the most impressive monasteries in Ladakh (Alchi, Likir, and Lamayuru among others), the 3-day Nubra valley tour via the famous Khardung La pass (the world's highest motorable road) and the tours to the stunning high-altitude lakes of Pangong and Tso Moriri.
You will not find many buses in Ladakh that go to these places. One of the options is to hire a car with a driver, but the cost of transport is not cheap in Ladakh…
Where to eat in Leh Ladakh: wonderland restaurant and bakery
The wonderland café was where I usually went for breakfast most mornings.
Loads of their breakfast combos come with coffee and apple juice!
It has a really nice relaxed vibe and an amazing bakery downstairs which offers some great doughnuts and pastries.
Also, If you're a fan of falafel, these guys do the best I have tasted so far in India. It was light, crispy, and delicious!
Dust pollution in Leh Ladakh and harsh temperatures
As the terrain and surroundings are in quite harsh conditions (sometimes it looked like how I imagined Mars to be like) you'll find it to be dry and dusty.
The pollution in Leh Ladakh was quite high around the main town and so if you have anything like asthma, you're best to come prepared.
Most days I found myself using my scarf to protect my mouth, nose, and eyes from the dust.
As we're closer to the sun here, you should always make sure you wear suncream.
When I visited in August, it was boiling hot every day and it was definitely summer clothes weather.
A lot of people had tiny dresses and shorts on which is a nice change from covering up but just make sure you don't get sunburn!
Staying connected and WiFi in Leh Ladakh
As soon as I set off from Manali on the Rohtang pass my UK and Indian SIM phone numbers lost service and data. But, I thought when I got to Leh, it would come back – how silly I was!
There was absolutely no phone service in the whole town. I'm sure you could get a SIM from Leh if you have an unlocked phone, as most phone packages are regional in India.
This would mean you would lock into their own phone service here. But, for a few days, I just didn't think it was worth it.
The wifi is also pretty bad and almost non-existent. Most cafés and restaurants offer wifi services but this wouldn't work half of the time. In fact, on the first day we got here – there was no wifi in the whole town!
If I did get wifi, only certain apps would work like WhatsApp, which was perfect
to tell my mum I was alive (mum's always worry).
There are internet cafés which you can use which are 90 rupees an hour. I actually quite liked not having wifi and being contactable. I'm a 90s kid, so I remember a time before the internet!
It just means that you have a few days to truly enjoy where you are. You're not constantly looking at your phone, but actually appreciating the scenery and meeting people!
Sometimes, we get so caught up in social media that it's refreshing to sign off. Get a map, read a book, and talk to people. There was a world before wifi, you know!